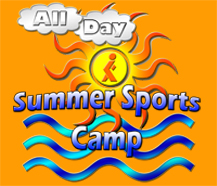 SPACE AVAILABLE - REGISTER NOW
"All Day" Day Camp-All Summer Long!
Register or Login Online - Click Here
Off The Wall Sports offers a great Summer Camp! Register your child or children for as little as one day or for as much as the whole summer. Lunch, early drop-off and late pick-up are included, no additional fee's!
This camp has proven to be a great alternative to "day-care"! The campers are kept active with a wide variety of activities ranging from Indoor Soccer and Rock Climbing! To view a day in the life of a camper, click here.
Camp Hours: 8:30 am - 4:30 pm.
Extended Hours Available at no extra charge (7 am - 6 pm)

Meals: Lunch & 3 Snacks Included. Menu, click here. Vegetarian Menu, click here.

Activities: Soccer, Basketball, Volleyball, Flag Football, Whiffle Ball, Kickball, Indoor Rock Climbing, Dodgeball, a variety of tag games and relay races, and much, much more! We have over 100 different games on a rotating schedule.

Ages: 5 - 13 years of age
Groups: Kids are split up into smaller groups by age with 1 counselor per group. Group ratios are 12:1 for the younger kids and up to 15:1 for the older kids.
Camp Fee: $47 per day, $188 per week*. Sibling Discount is $3 per day during the same week.
*Sign up for 5 days in a row & get the 5th day FREE.

2017 Camp Calendar
| | | |
| --- | --- | --- |
| May/June | June/July | August |
| | | | | | | | | | | | | | | | | | |
| --- | --- | --- | --- | --- | --- | --- | --- | --- | --- | --- | --- | --- | --- | --- | --- | --- | --- |
| | M | T | W | T | F | | M | T | W | T | F | | M | T | W | T | F |
| W1 | | | | 25 | 26 | W6 | 26 | 27 | 28 | 29 | 30 | W11 | 31 | 1 | 2 | 3 | 4 |
| W2 | -- | 30 | 31 | 1 | 2 | W7 | -- | -- | 5 | 6 | 7 | W12 | 7 | 8 | 9 | 10 | 11 |
| W3 | 5 | 6 | 7 | 8 | 9 | W8 | 10 | 11 | 12 | 13 | 14 | W13 | 14 | | | | |
| W4 | 12 | 13 | 14 | 15 | 16 | W9 | 17 | 18 | 19 | 20 | 21 | | | | | | |
| W5 | 19 | 20 | 21 | 22 | 23 | W10 | 24 | 25 | 26 | 27 | 28 | | | | | | |
Register or Login Online - Click Here